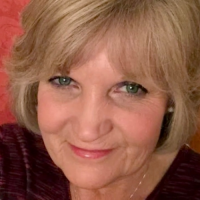 L. B. Joyce
Contemporary Romance, Romance, Women's Fiction, Humor
L. B. Joyce lives in Chagrin Falls, Ohio. A freelance artist by day, with designing Christmas ornaments her specialty, she's also
a writer by night. She loves getting lost in a good book, has redecorated almost every room in her house more times than she'd like to admit, loves baking up a storm in her kitchen, hates housework with a passion, and will drive just about anywhere because of her fear of flying.

Book 7, September's Moonlight Serenade, is the latest addition to the series, Twelve Months, Twelve Love Stories. (A Contemporary Romance series.)

Current books:

1 - A Million Decembers
2 - For the Love of July
3 - February's Angel
4 - Promise Me November
5 - An Unexpected June
6 - A January to Remember
7 - September's Moonlight Serenade

All are available in both paperback and EBook.
No woman really wants a man to carry her off she only wants him to want to do it.
Elizabeth Peters
When your characters rebel at what you're trying to make them do, or refuse to say the words you're trying to cram into their mouths, that's when you know you've done your job right.
Ken Stark